E65: Potty Training, Jeremy's Surgery, and Life Lately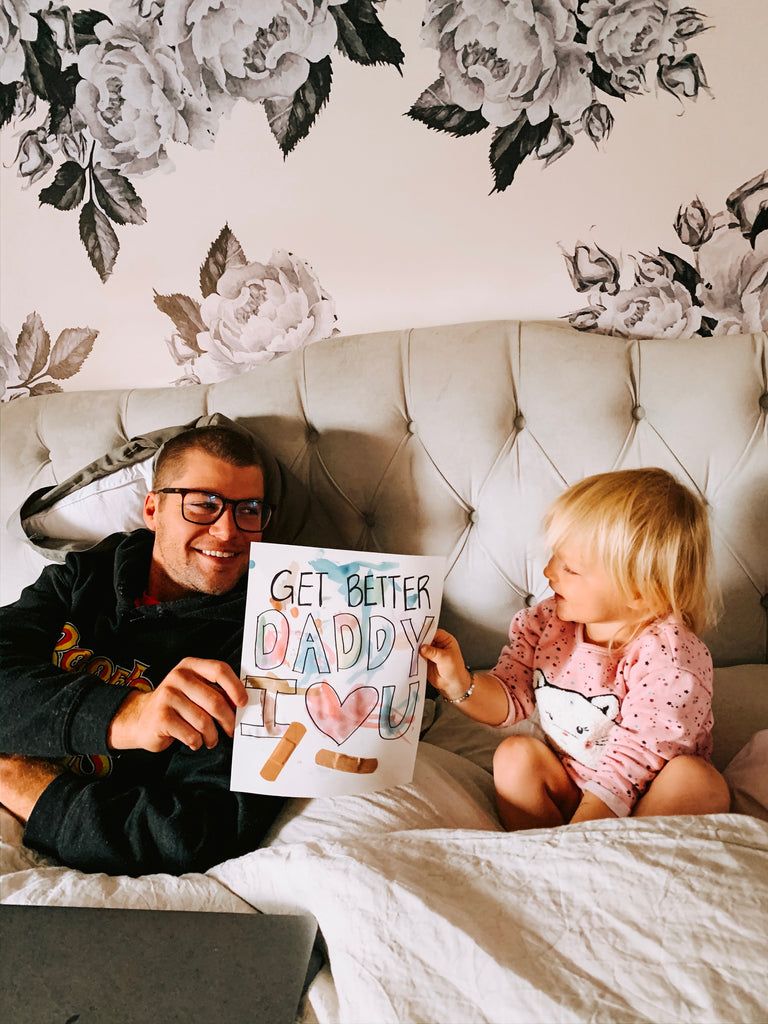 It has been a while since it was JUST us on the show. We love having guests on, but a lot has happened over the last several months, and with the holidays coming up, we thought it would be the best time to do a life update for you guys! From potty training, Jeremy's surgery, how I am doing at 33 weeks pregnant, and a BIG announcement … there is a lot to talk about! So let's get into to #AllTheUpdates. 
Here are all the things we mentioned in this episode: 
Follow us on Instagram: 
Reviews are everything on iTunes and we would love to hear what you are loving from our podcast! Would you take a minute and click HERE to leave a review? 
If you have any questions, comments or stories about this episode or the podcast in general, send us an email at podcast@theroloffs.com or connect with us over on the podcast Instagram. 
Check out our podcast page for more about this episode. 
JUST A QUICK NOTE, THIS POST MAY CONTAIN AFFILIATE LINKS.
What's a hernia, Jer?
A hernia is actually a common thing.  Essentially, it's a weak spot in the abdominal wall where your intestines kind of try to push out of that weak spot. I think I got it a couple of years ago when I was dared to do a backflip, and I did 3 in a row and felt a tingling. I've been ignoring it because surgery terrifies me and the doctor said I didn't have to get it fixed right away. But I decided to wait until it really bothered me, which it began to do. I want to be athletic and I can't because of it. 
Why now?! 
I (Jer) had the surgery NOW because it needed to be done before we had two kids - it is easier with one! We wanted to wait until after Pumpkin Season, the book tour, and all the craziness. This was a perfect time! I also want to hit my 30th birthday in good shape, so this was part of that health journey. 
The Pre-Surgery
Two days before surgery I sneezed and threw out my back- I fell to the floor and couldn't move. I am recovering from my surgery, but now I have to figure out my back and what to do next.  
Before the surgery, I was super anxious and nervous. I don't like medical stuff. I was super sweaty and hot. I kept pacing and asking questions. Something about being inside the hospital walls just stresses me out. I have barely been in hospitals! So this was definitely a time where I could see a little window into all the things Auj has dealt with when it comes to weekly blood drawing, injuries, and labor. 
Jer, what did you do in your downtime?
I watched the show The 100. Ahh, it was so good- almost good enough to watch again with Auj if she wanted to! A lot of it was just forced rest... I was down for the count. I was forced to slow down and take a minute. But Auj had her hands full - she was taking care of me and Ember, and she also worked a lot at night. 
Audrey, How has potty training with Ember been?
I figured I was going to be home taking care of Jeremy for about 2 weeks straight, so I decided why not do potty train now!? I knew Ember was ready because she had been peeing on the potty like 3 times a day for the past couple of months. 
I didn't Google anything because I didn't want to be overwhelmed by the process. Instead, I wanted to just go off what I had heard and my mother's intuition. I know certain things about Ember! For example, she is a reward-driven child so that helped with potty training. 
The process for us hasn't worked 100%, but this is what we did: 
- We started with peeing in her little potty that flushes and whenever she did, she got a sticker! We went to Target and picked out some underwear (she ended up choosing little boys' undies) but I grabbed some little girls' training undies too. 
- For the first couple of days, we started her in underwear. It was funny because sometimes she would have an accident because she was super excited to put on another pair of new undies!! (Sneaky little girl!) After we realized this, she wore undies JUST in the morning. Once she had an accident, we would let her run naked. 
- We rewarded her for everything at the beginning! She would get a reward for peeing and pooping on the potty. But now we reward just poops because those have been tougher to train.  
- When she needed to poop, she would run to the bathroom, sit, and get up, run back, sit and get up, and then she'd run back and poop her underwear. I realized she wasn't giving herself enough time on the potty, so we tried reading a book on the potty and then tried giving her some space. This took a couple of weeks, and we are still having some accidents. But we are getting there! 
What finally worked!
We finally found something that got her to go poop in the potty - giving her a special toy for after she went! She picked out a Jessie doll (you know the one from Toy Story). Now, she can have Jessie once she poops on the potty. At first, she didn't poop for a day or so, and then she finally did and was SO excited to have her Jessie toy! 
After that, she has done pretty well and only has had an accident or two. I (Jer) was home alone cooking dinner and went to go find Ember and found her washing her hands after she went poop by herself! She has been waking up with a dry diaper and needs to go pee when she wakes up. I keep her in pull-ups just in case, but she has been dry so far. Hopefully, that lasts! 
Big couple of weeks and decisions
We have had to pull out the butcher paper and draw out the pro's and con's to make a couple big decisions! We have an episode on butcher paper goals and decision making! We had two weeks of being home, helping Jer and Ember, playing with her... It was kind of a time to remember why we work for ourselves and run our own business. 
We are learning how to not let work become all-consuming- and how to balance it all.
BIG NEWS!
Black Friday and Cyber Monday are always a big time of year for our businesses and shop! We have been working really hard on some things, and the big news is- 
We have a new website!!! theroloffs.com
On the new website you can see all our products, books, and merch. There is also a podcast blog, which means everything we mention in an episode, will be on there! 
Another exciting thing!!
Never before have you been able to purchase The Marriage Journal AND A Love Letter Life together as a bundle! But we are excited to announce that we will be doing a bundle of the two for the holiday season! And for podcast listeners only, we are going to give you 30% off that bundle for this week of Black Friday and Cyber Monday! Starting today, Tuesday the 26th, until December 2nd! Discount Code is PODCAST30! Make sure to buy the bundle, and you will get the discount!
Random quick life updates!
- We are thinking about getting a new vehicle! It's time to get something a little more family safe.
- Ember is doing gymnastics. This is her first experience with a teacher learning boundaries and she is having so much fun!
- We are setting up baby boys' room! We have a crib, but we still have some stuff to do. We are like a month away!
Pregnancy Update
(Auj) Both pregnancies have been pretty similar! The main difference is that he is sitting much lower. Other differences: my hair is a lot straighter than normal, he moves non stop, and I have more heartburn this time. But for the most part, it has been super fun and a good pregnancy. I don't feel like I am missing out on anything. I am super excited to cozy up by the fire with our newborn baby! This time around, I am not as nervous about what I can and can't eat. However, one thing I am nervous about is LABOR! A lot of people say you forget the pain the second time around, but I haven't forgotten the pain of labor and the uncertainty of it all. We will see! 
(Jer) For me, it has really been hitting that I am going to have a son. With my son coming, I have a sense of something I didn't have with Ember. Maybe it's something about leadership, and how will I portray leadership... How am I leading my home and making decisions? Who am I and who do I want to be for my son who is watching me and will take on things from me? There's a sense of a burden, something that makes me want to step up, keep growing and learning. A push onward! 
Lastly…
This Thanksgiving we will be in Bend. We are super excited to with friends back on our old stomping grounds! And as for the podcast - we have a couple more episodes coming in December, and then for Christmas we will be taking a little bit of a break! 
Well, that's a pretty good update from us! Check out the new website and don't forget about the bundle and discount - take advantage of it and grab some gifts for you or your friends. We hope you guys have a great Thanksgiving!