EP 89: "Lock It In" + The Best Valentine's Day Gift Ever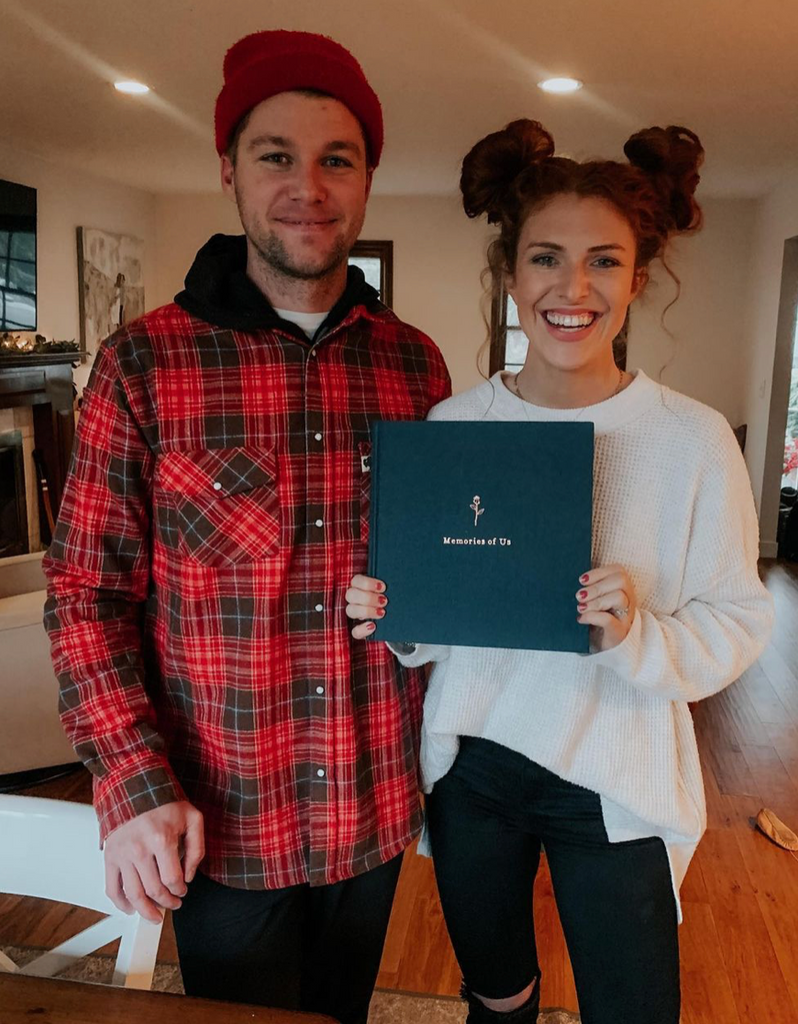 Memories of Us has LAUNCHED & started shipping! Make sure to tag us on social media so we can see them in your hands and follow your journey of using this journal in your marriage. 
Memories of Us is an heirloom book of your love story! It is a yearly rhythm with your spouse that you do on your anniversary where you can record your memories and highlights for that year. With your spouse, you sit down to reflect on the previous year and dream for the year ahead. It is a once a year commitment; that's it! 
Grab a copy! It is the perfect gift for Valentine's Day to celebrate your love story. And it is a gift that you pour into every year, for the rest of your life. 
Making memories and marking moments. 
Memories are so important. Whether they are good memories or hard memories; there is great value in recording + marking them. 
Laced through the wisdom of Scripture is the word remember. And the practice of making a memory is deeply sacred. God invites us to create memorials that mark moments when our true identity is revealed. We love what Corrie Ten Boom brilliantly says, "Memories are the key not to the past, but to the future." 
Marking Moments: 
Something that Jeremy + Audrey have been doing for a while now (and get questions about all the time) is their action of "Lock It In." 
Here is a quick backstory: They were in Costa Rica and a big storm was rolling in. As they were looking out into the ocean, watching this storm roll in, Jeremy looked at Audrey and said "Lock It In." It was a moment they wanted to remember forever; a mental tattoo if you will. It was a special moment of life that inspires them, even today. The phrase "Lock It In" is used often in their marriage during moments they want to lock in their memory bank forever. Moments that want to remember. But they don't just do it for big moments. It is also for the random, daily moments that remind them of what matters most. It helps bring presence to the moment, instead of letting it pass by. 
You can find your own creative way to "lock it in" during moments of celebration, loss, disappointment, or even just the little daily moments of discovery, connection, or breakthrough. When you mark your love story with a knowing look, a thoughtful letter, a gesture, or a celebration of some sort, you will help create memories that will be recalled over the years as memorial stones in your love story.
Here are some creative and intentional ("break the script") ideas for making memories:
Show up

: No matter what the activity is, whenever you show up in your significant others' worlds, you turn a mundane moment into a cherished memory. 

*Jeremy used to show up to Audrey's Barre class. Audrey shows us when Jeremy is working in the shop on the cars. Those in between moments of just being present. 
Inconvenience yourself for your spouse

: Some of the sweetest memories come from times we inconvenience ourselves for the other person for the sake of making a memory. 

*Lately Jeremy + Audrey have been packing up their dinner ingredients and camp cookware to make dinner out of the back of their truck while sitting by the campfire at the farm (how fun!)

 
Venture outside the norm:

Everyone has their go-to date night! But try something new and out of the normal. It is when you embrace spontaneity and the unknown with your significant other that some of the best memories are made. 

*Jeremy + Audrey love their go-to winery for date nights, but also love venturing to new places and trying something outside the norm. 
We hope you are encouraged + inspired to create your own version of lock it in and cultivate memories in your relationship. Remember, memories are key for the future. 
Behind the Scenes Podcast is partnered with Compassion International. When you sponsor a child, you receive a FREE copy of our latest book, Creative Love. To Sponsor A Child - Compassion.com/Roloff or Text ROLOFF to 83393.
In this episode you'll hear: 
The difference between reminiscing and recording memories. 

How we document memories and why we place so much value on them. 

Ways you can go out of your way to create memories. 

What "Lock It In" means to us and why we do it. 
Links to all the things mentioned: 
Follow us on Instagram: