Ep 71: Bode's Birth Story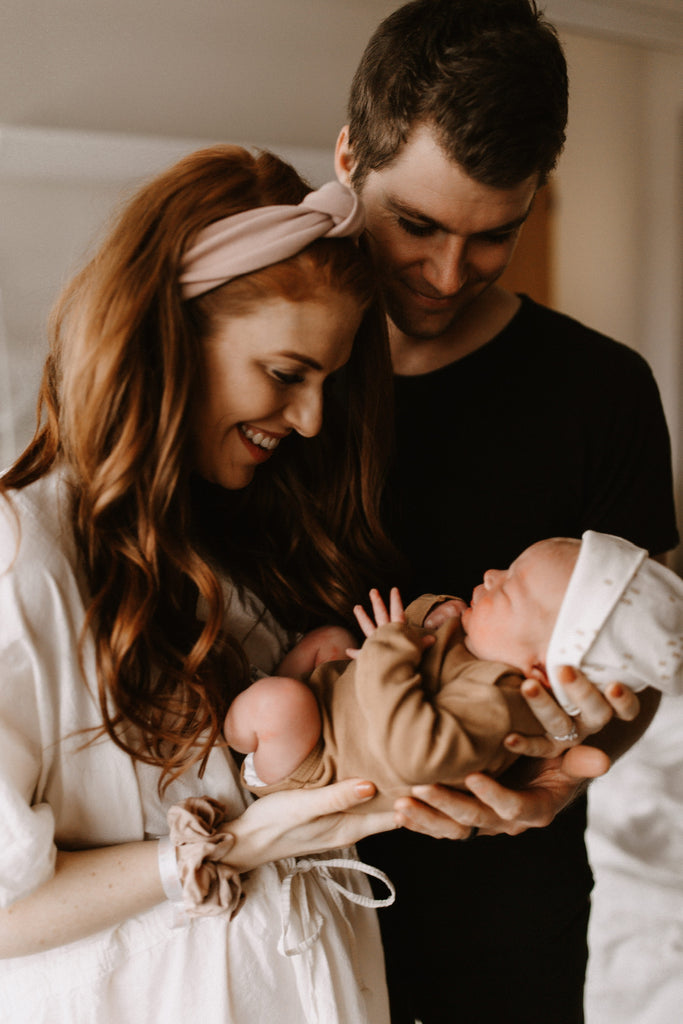 This is the episode we've all been waiting for - Bode's birth story! (Anyone else super excited to hear this story??) Jeremy + Audrey have been adjusting to life as a family of four and Bode has certainly made it easier by being the easiest baby (so far!). Ember is a great helper too! She is so gentle and helpful with all the things. This episode goes SUPER behind the scenes of the birth story and gives you an update on how they are all doing!   
In This Episode You'll Hear:
The story behind Bode's name
How they were forced to slow down to prepare for Bode's official birth
All of the BTS of the Bode's Birth story 
Why Audrey prefers a natural labor + delivery
The not so fun part after labor #PostpartumLife 
Ember meeting her Bode for the first time (sweetest big sister ever!!)
Links to all the things mentioned: 
Follow us on Instagram: 
Listen Now: 
Hospital Bag list
For Mom (Labor Bag): 
Birth plan X 5
Clothes to labor in water
Clothes to labor in
Headband
Massage oil 
Chap stick
Cough drops 
Snacks 
Book
Journal
Cellphone charger
Robe for after
Gown
Baggy sweats
Shower flip flops
Towel for showering
Sports bra or swim top and bottoms (water laboring)
Baby book
Dry shampoo
Essential oils: check out THIS post for more information! 
Peppermint: energy boost, nausea, headaches (avoid after 8 cm)
Lavender: calming, relieves stress,
Ylang Ylang: can be used to advance labor
Majoram: helps to soothe the discomforts of contractions
Calgary sage: will help induce labor naturally
Geranium
Helichrysum: stop bleeding
Myrrh
Basil
Black Pepper
Gentle baby
Peace and calming
Frankincense: helps to calm your emotions and ease labor pains
Tea Tree: excellent for stabilizing your mood
White angelica: energy strength
Lemon
Jasmine: promote contractions
Coconut oil
 For Mom (Postpartum Bag): 
Going home outfit (something really baggy) 
Nursing bras
Nursing tanks
Nursing pads
Nipple cream
Postpartum underwear
Snacks
Pads
Toiletries: ​
- toothbrush
- toothpaste
- shampoo
- conditioner 
- body soap
- Make up remover
- Lotion 
- hair ties
 Last minute pack:
Make up
Brush
Deodorant
Face wash
Music speaker
Cell phone
Birks
Wallet: ID + insurance info                                                 
For Jer:
Wallet
Cellphone
Cellphone charger
DSL camera with a charged battery, extra battery, and extra storage card 
Vlog video camera
Film camera 35 mm
Change of clothes
Comfortable shoes
Water shoes                      
Pillow
Glasses
Toothbrush
Hat
Snacks
Water bottle
Sleeping bag                                                                    
For Baby:
Installed car seat
Receiving blanket - cat/farm blanket from honey and papa
Coming home outfit - with socks (important when it is cold!) 
Nail scissors 
Swaddle blanket 
Burp cloths 
Diapers 
Wipes by Young Living
Scratch mittens and hat
Baby oil by Young Living